Ley lines are lines of magic that intersect to create a Leygate, where a portal can be opened that allows you to instantaneously travel from one point to another.
Some notable leygates include
Ojai to Sacre Cour (Paris)
Traitor's Gate Shadowrealm (London) to an unmade Shadowrealm.
Xibalba Shadowrealm to Mount Tamalpais (San Francisco)
Point Zero (Paris) to Mount Tamalpais (San Francisco)
Gobi Desert (Mongolia) to Ise Shine (Japan)
Japan to Uluru (Australia)
Australia to Easter Island
Easter Island to Mount Tamalpais (San Francisco)
Stonehenge to Mount Tamalpais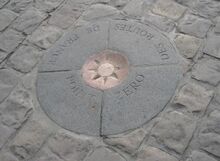 Ad blocker interference detected!
Wikia is a free-to-use site that makes money from advertising. We have a modified experience for viewers using ad blockers

Wikia is not accessible if you've made further modifications. Remove the custom ad blocker rule(s) and the page will load as expected.