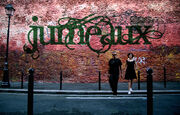 In 2008, Michael approached LA-based singer/songwriter Libby Lavella. Mutual fans of each other's work, he asked her about the idea of writing original songs based on characters and themes in the Nicholas Flamel universe. Libby connected with Paris-based composer Antonio Gambale, and wrote and recorded the song "Carry My Voice", a theme song for Flamel's wife, the sorceress Perenelle Flamel. This song was made available on Random House's official Nicholas Flamel website and Flamel's Immortal Portal, the official fan site, and was a big hit with fans being downloaded over 120,000 times. It also inspired fan-created video clips posted on YouTube.
In an interesting parallel with the first two books of the series, the stories of which take place first in the US and then in Paris, Libby traveled there to write and record another two songs for the series. Working again with composer Antonio Gambale, the songs "This Way Forever", "I live in hope" and "Find the Words" were produced.
"This Way Forever" is a theme song for the lead characters in the series - the twins Josh and Sophie. The song is sung as a trading male/female vocal duet and explores the duality and intertwined life of twins as challenges in life threaten to tear apart the inseparable. The themes evoked by the song echo the same exploration of these characters in the books. on the 8th of January 2012 the official music video came out.
"I live in Hope." Is the second thune for Perenelle Flamle, and it is about how she must have felt while prisoner on Alcatraz Island in "The Sorceress."
"Find the Words" is a song about the transformational "Awakening" that both of the twins go through during the course of the story. Again presented as a male/female duet, it explores the idea of point-of-no-return transformations in life, and the sensation of trying to describe the indescribable - a musical response to the same theme covered in the books.
During the process of writing and recording these songs, Libby and Antonio visited and drew inspiration from many of the real-world locations described in the second volume set in Paris, including the still-standing 14th century home of Nicholas Flamel and the Paris catacombs.
The songs were recorded in the Paris studios of leading French film composer, Nathaniel Mechaly, drawing on a diverse range of instruments from cello, classic electric guitars, to Oberheim and Moog synthesizer. Additional production and final mixing took place in London by programmer and mixer Andy Page, best known for his work mixing Alanis Morissette's album "Flavors of Entanglement".
Jumeaux means "twins" in French.