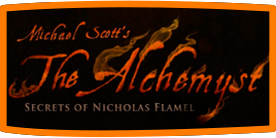 In 2012 it was confirmed that AMPCO Studios would be making a film adaptation of The Alchemyst. Lorenzo di Bonaventura (GI Joe, Salt, Matrix, Transformers) is set to produce the series of all 6 movies, which will be scripted be Michael Scott. The first film is set to enter preliminary pre-production sometime in 2016-2017.[References 1]
Ad blocker interference detected!
Wikia is a free-to-use site that makes money from advertising. We have a modified experience for viewers using ad blockers

Wikia is not accessible if you've made further modifications. Remove the custom ad blocker rule(s) and the page will load as expected.