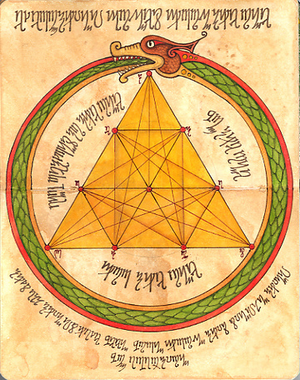 Alchemy
is the magical discipline concerned with the transmutation and manipulation of matter. It is remembered for its role in Enlightenment-era science, in which it gained a large following of scholars who sought to turn common metals into gold, to convert ordinary materials into gemstones, and to create the
Philosopher's Stone
.
Uses of Alchemy
There are several occurrences in the series and in history when Alchemy has been used. Here are some of the things it can do:
Transmutation: Changing a solid to a liquid or a liquid to a solid, and changing them back again.
Philosopher's Stone: A material of incredible power which can facilitate alchemical practice and temporarily grant immortality. The recipe for the Stone - which can be found on the seventh page of the Codex - changes every month; attempting to use the same recipe twice can have disastrous effects.
Attraction: Leygates can be redirected using some principle of mutual attraction.
DNA Manipulation: Alchemists can manipulate or activate sections of DNA; this is exemplified by Nicholas Flamel growing a small forest from a hardwood floor in The Alchemyst.
Notable Alchemists
Ad blocker interference detected!
Wikia is a free-to-use site that makes money from advertising. We have a modified experience for viewers using ad blockers

Wikia is not accessible if you've made further modifications. Remove the custom ad blocker rule(s) and the page will load as expected.